Strong performance of EuroTier and EnergyDecentral: Pioneering innovations enable transformation of livestock and energy
Over 1,800 exhibitors from 57 countries – more than 106,000 visitors from 141 countries – the world's leading trade fair for animal farming and livestock presented the industry's innovative strength and creative drive – EnergyDecentral set the tone with pioneering concepts for energy and climate protection – Next EuroTier and EnergyDecentral will take place from 12-15 November, 2024 in Hanover, Germany
(DLG). Strong performance for the EuroTier and EnergyDecentral 2022 trade fairs in Hanover, Germany. After four years, the world's leading trade fair animal farming and livestock management, as well as the leading trade fair for decentralized energy supply impressively showcased the innovative strength of both sectors. Over 1,800 exhibitors from 57 countries and more than 106,000 visitors from 141 countries travelled to Hanover from 15-18 November, 2022. With more than 400 professional events and conferences, the trade fair duo confirmed its leading position. Exhibitors and visitors expressed high satisfaction.
In challenging times, EuroTier was able to set important trends for the future development of the national and international animal husbandry industry. Organizer DLG (German Agricultural Society), together with its partners, presented an exhibition and technical program with the guiding theme "Transforming Animal Farming". Focusing on a successful future for the animal husbandry industry, the theme showed how, with technical innovations, increased productivity alongside an increase in animal welfare and sustainability can be achieved – in particular applying new solutions in the areas of digitization, automation and robotics.
"Productivity, climate change, animal welfare – animal production is changing worldwide. Farms must become sustainable and stable in all areas for the future – whether it is animal housing construction and technology, digitization, breeding, feeding or marketing. This requires innovations, which the EuroTier exhibitors have delivered, showing the potential of future animal husbandry," says Freya von Czettritz, CEO, DLG Holding GmbH, adding that feedback from the industry was positive. "Our exhibitors were very satisfied with the quality of the international professional visitors," she added.
Top ten exhibitor countries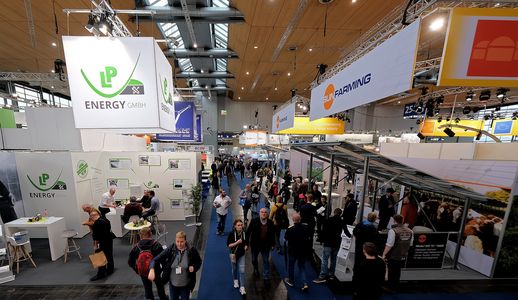 The majority of exhibitors came from Germany, followed by the Netherlands, Italy, France, Spain, Denmark, Belgium, Austria, Turkey and the UK. China, Ireland and the USA followed in the other places. Exhibitors from Arab countries such as Egypt, Morocco and Algeria were also represented. The proportion of international exhibitors was around 60 percent.
The exhibitors and partners were very satisfied with the result of the two trade fairs:
– "It was great to be able to experience EuroTier as an in-person trade fair again after four long years. We arrived in Hanover with mixed feelings, but can now say that our expectations were exceeded! The DLG has once again succeeded in bringing many future-oriented livestock farmers together in Hanover, thus creating a positive atmosphere. Particularly pleasing: there were more visitors from European countries at our stand than we expected."
Bernd Meerpohl, CEO, Big Dutchman AG.
– "EuroTier 2022 was a high-quality industry venue with many professional discussions. GEA Farm Technologies was able to present its many innovations to milk producers from Germany and abroad."
Ulrich Rassenhövel, Senior Director Representative Farm Technologies Division Country Germany, GEA Farm Technologies
– "Siloking's trade fair participation in the EuroTier trade fair was a complete success. The interest in our company and our product presentations exceeded our expectations. Above all, the high quality of the visitors and the many quality discussions show how important EuroTier is for the international livestock industry."
Margit Mayer, Managing Director, Siloking
– "Our member are highly satisfied with the successful result of EuroTier 2022 . A significant number of member companies, despite some mixed feelings, absolutely wanted to participate in the most important international trade fair for animal breeding and livestock. This decision was rewarded. The response was better than we had expected. One thing is certain: nowhere else do you come into contact with so many agricultural organizations as at EuroTier. It's nice that this important industry venue has successfully returned."
Nora Hammer, Managing Director, The German Livestock Association.
– "EuroTier plays an important role in our global trade show presence. It has confirmed its good reputation again in 2022, as we once again met many international customers in Hanover."
Yama Olumi, Head of Market Communications Animal Nutrition, Evonik IndustriesEvonik
– "Our members are satisfied with the way EnergyDecentral has gone, which has been beyond expectations. After the long Corona break, the demand for personal exchanges on the many issues of decentralized energy production is very high. Moreover, in the context of the current energy crisis, the importance of decentralized energy systems for resilience and flexibility has come into even sharper focus."
Gerd Krieger, Deputy Managing Director, VDMA Power Systems
"A great trade fair.  We were overwhelmed by the volume of visitors and investors."
Kunibert Ruhe, Managing Director, Ruhe Biogas
Visitors impressed by the range of exhibits and specialist information
Visitors were highly satisfied with the offering at the exhibition (94.3 percent). In addition to feed and operating resources, interest was particularly high in the topics of breeding, milking and cooling technology, animal housing, hall construction as well as feeding technology. Around 39 percent of the visitors came from outside Germany. Some 450 journalists from 32 countries used EuroTier and EnergyDecentral to gain an overview of current innovations and trends.
The leading platform for the future and ideas network in livestock
The technical program at EuroTier was supported by DLG and numerous partners from industry, science and consulting. More than 400 events, such as spotlights, conferences and forums, primarily showcased perspectives and concepts that focused on the topics of animal welfare, sustainability and climate protection, while at the same time ensuring production efficiency. The congress of the German Association of Practicing Veterinarians (bpt), which took place in parallel, offered additional opportunities for cross-industry exchange. The winners of the EuroTier Innovation Awards reflected the innovative strength of the exhibiting companies which worked like an "ideas network". The Young Farmers Day with its concluding Young Farmers Party was once again the venue for young farmers and students. This year, the focus was on networking, career planning and discussions about sustainable animal husbandry.
EnergyDecentral: Marketplace for the future of energy supply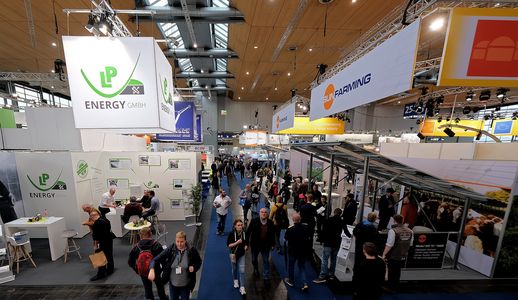 Due to the crisis in energy supply caused by the war, the search for alternative and renewable energy sources has become more important. The industry venue, marketplace and innovation showcase of a future-oriented energy industry, EnergyDecentral presented a range of new ideas for decentralized energy supply. The focus was on the extensive range of decentralized energy sources, such as photovoltaics, agri-photovoltaics, floating PV systems, complete solutions for the anaerobic digestion of biomass and biogas production and processing.
Convincing new formats 
– The "DLG-Agrifuture Concept Winner" was awarded for the first time at EuroTier and EnergyDecentral. With this award, DLG honors concepts and visions that have not yet reached market maturity, but have potential for the future.
– Celebrating its premiere, the "Women in Ag Awards International" will in future be awarded annually to women who serve as role models for international agriculture.
– With the new "DLG Agri Influencer Award", DLG draws attention to agricultural blogs and profiles with high-quality content on social media and presents these to a broader public.
– Start-ups and creatives developed their forward-looking ideas in the DLG.Prototype.Club.
Digital technical program on www.DLG-Connect.com
A selection of the trade show's technical program is now available at www.DLG-Connect.com.
The next EuroTier, including EnergyDecentral and the World Poultry Show, will take place in Hanover, Germany, from 12 to 15 November, 2024.
Further information:
www.energy-decentral.com
10.12.2022